July 2017 Updates from AAU President Dr. Roger J. Goudy
​July 2017 Updates from AAU President Dr. Roger J. Goudy
News, event updates and more.
44th AAU Girls' Junior National Volleyball Championships 
More Than 35,000 Athletes Competed in World's Largest
Volleyball Event June 15-26, 2017 
The twelve-day event has held the title of largest volleyball event in the world since 2012when the 16U Club division set the current Guinness Book of World Records mark. It attracted 2,438 plus teams who brought 35,000 athletes, 80,000 spectators, 9,000 coachesand 593 college coaches (record) and took place on 172 courts between ESPN Wide World of Sports Complex and Orange County Convention Center. It is expected to bring more than $52 million to Central Florida area: Read Recap | Video Recap | Water Park Party | Boys Natls 
Feeding Children and Promoting Cancer Awareness
In partnership with Feeding Children Everywhere, volleyball national attendees helped pack 80,000 meals for underprivileged youth at Orange County Convention Center on June 16. Story | Photos |  Video
Also, for the first time this year, the AAU partnered with The Side-Out Foundationto raise money for breast cancer research. All participants were encouraged to wear pink for AAU's Dig Pink Day dates on June 17, 21 and 25 to show support for stage IV breast cancer patients.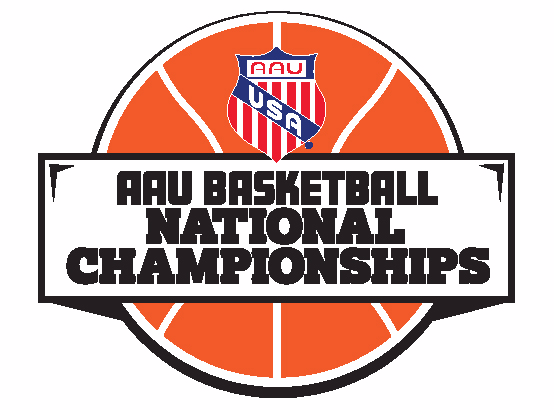 Over
 20,000 athletes
 will compete in the 
AAU Basketball National Championships
 and 
AAU Basketball Super Showcases
 throughout the month of July.  These events are for both Boys and Girls teams and will take place in ten locations across the country. 
Read more
Girls Schedule/Results
 | 
Boys Schedule/Results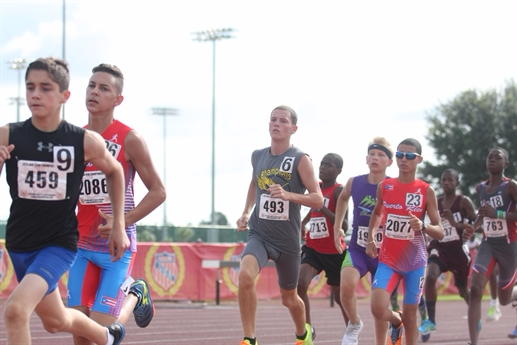 The 
AAU Track National Championships season continues
 ​starting the weekend of July 7th and continuing through July 15th. Starting off with the 9th annual AAU Primary National Championships (ages 5-8) followed by the 21st annual Club National Championships (ages 8-18). Top eight athletes advance to the AAU Junior Olympic Games. 
Read more
 | 
Primary Video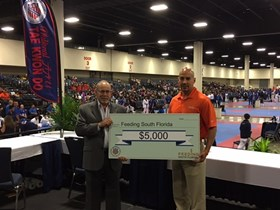 During the 
2017 AAU Taekwondo National Championships 
– Mr. Mike Friello, the AAU Taekwondo National Chair presented Feeding South Florida, a check on behalf of the AAU Taekwondo National Program in conjunction with the 
AAU Cares
.  2017 AAU Takewondo National Championships will host more than 2,200+ athletes and 600+ coaches in Fort Lauderdale, Fla from July 3rd – July, 8th.  
Read more
  | 
Event Recap
The 2017 AAU-USARS Junior Olympics for Inline Hockey ​started July 6 and goes through July 16. Taking place at The Rinks in Corona, California, the very best youth and adult inline hockey athletes throughout the country and the world are competing. Ages 8U through 23U with Mens and Womens divisions as well asthe annual skills competition for hardest shot, shootout and fastest skater.
2017 AAU Karate National Championships
June 27-July 1 | Raleigh, NC.
AAU Karate held another successful national championship. The AAU also gave out Scholarship Awards to athletes who excelled on the mat as well as in the classroom. Colin Castlewitz and Carissa Hansen were both awarded $1,000 to use towards their college education. For full coverage including photos and video, 
click here
.
Recap
Inaugural AAU Pacific Rim Championships
June 30 – July 2, 2017
The inaugural AAU Pacific Rim Basketball Championships hosted by Jam On It were a success.  Taking place at the Hawai'i Convention Center on the island of Oahu, 140 basketball teams, comprised of 60 teams from the U.S. mainland or off island, competed on thirteen (13) courts over a three (3) day period for the chance at an AAU title.
Age Group National Championship
June 21-25 | Kingsport, Tenn.
Over 1,300 athletes competed in Kingsport, TN for the 2017 AAU Gymnastics Age Group National Championship.  The Celebration of Athletes at the Dobyns-Bennett High School was held on Friday, June 23rd featuring a musical performance from Tennessee native, Carson Peters. AAU Gymnastics 
also AAU CARES: 
raising funds through the 
Kids Helping Kids
campaign to be donated to the FRIENDS organization supporting the Greater Tri-cities area throughout the event.
 Recap
AAU Scholastic Duals
June 11-16, 2017
ESPN Wide World of Sports Complex
This five-day event featured nearly 2,300 wrestlers including a handful of female wrestlers on 133 teams converging on the Central Florida area.
There were four different divisions with teams representing 20 AAU districts.
AAU Wrestling Grand National Championships
June 15-17, 2017
Wrestlers traveled from 13 states and two countries to Draper, Utah., to compete in freestyle, Greco-Roman and folkstyle wrestling.​ 
Read more
AAU Grand National Championships
June 18-24, 2017
AAU Goes to the Far East
The AAU continues to look for new ways to grow membership. Part of that initiative is expanding our brand presence in places such as Hawaii where AAU can draw teams from international countries like China to compete in AAU events.  Dr. Goudy and AAU First Vice-President Rusty Buchanan visited China in June, meeting with various sport leaders of the country and encouraging them to send teams to compete in AAU events
AAU and Carl Lewis
The Perfect Method
Recently, the AAU has signed an agreement to partner with legendary track star Carl Lewis. The Perfect Method is a step by step program that prepares runners by focusing on their habit on and off the track from technical skills and seasonal conditioning to nutrition advice and mental preparation. AAU members 
get a FREE 30-day trial
.
AAU to add Pickleball
Currently, the AAU is working with reps from USAPA — USA Pickleball Association — to make it an AAU sport. It will debut at the 2017 AAU Junior Olympic Games in Detroit as an exhibition.
​Pickleball is a court sport that combines elements of tennis, badminton and table tennis. The game is played both indoor and outdoor on a surface one-third the size of a regulation tennis court and a net lowered to 34 inches.